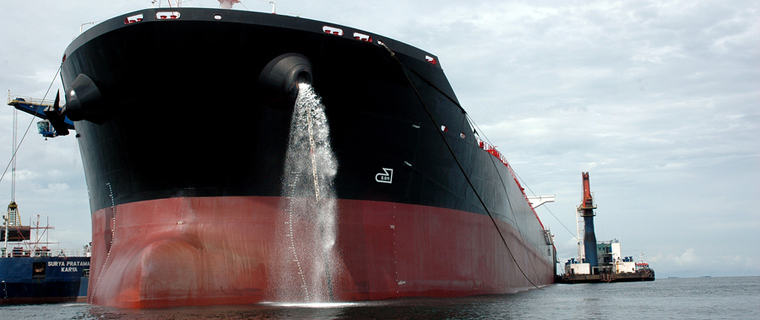 Accession by Finland has triggered the entry into force of a key international measure for environmental protection that aims to stop the spread of potentially invasive aquatic species in ships' ballast water.
The International Convention for the Control and Management of Ships' Ballast Water and Sediments (BWM Convention) will enter into force on 8 September 2017, marking a landmark step towards halting the spread of invasive aquatic species, which can cause havoc for local ecosystems, affect biodiversity and lead to substantial economic loss. Under the Convention's terms, ships will be required to manage their ballast water to remove, render harmless, or avoid the uptake or discharge of aquatic organisms and pathogens within ballast water and sediments
"This is a truly significant milestone for the health of our planet," said IMO Secretary-General Kitack Lim.
"The spread of invasive species has been recognized as one of the greatest threats to the ecological and the economic well-being of the planet. These species are causing enormous damage to biodiversity and the valuable natural riches of the earth upon which we depend. Invasive species also cause direct and indirect health effects and the damage to the environment is often irreversible," he said.
He added, "The entry into force of the Ballast Water Management Convention will not only minimize the risk of invasions by alien species via ballast water, it will also provide a global level playing field for international shipping, providing clear and robust standards for the management of ballast water on ships."
Her Excellency Mrs. Päivi Luostarinen Ambassador Extraordinary and Plenipotentiary, Permanent Representative of Finland to IMO, handed over the country's instrument of acceptance to the Ballast Water Management Convention to IMO Secretary-General Lim on Thursday (8 September 2016).
The accession brings the combined tonnage of contracting States to the treaty to 35.1441%, with 52 contracting Parties. The convention stipulates that it will enter into force 12 months after ratification by a minimum of 30 States, representing 35% of world merchant shipping tonnage.
The BWM Convention apply to all ships except:
ships not designed or constructed to carry ballast water
ships operating exclusively in waters under the jurisdiction of a Party, unless the party determines that the discharge of ballast water from such ships would impair or damage their environment
warships, naval auxiliary or other ships owned or operated by a Party
ships with permanent ballast water not subject to discharge.
All ships will be required by 8th of September 2017 to carry on board:
a "Ballast Water Management Plan" approved by the Administration or the Recognized Organization (RO),
a "Ballast Water Record Book" for the recording of each operation concerning ballast water management; and
an "International Ballast Water Management Certificate" with a five year validity and subject to annual, intermediate and renewal surveys. For those flag States that have not ratified the Convention, an "International Ballast Water Management Statement of Compliance" will be issued by RO.